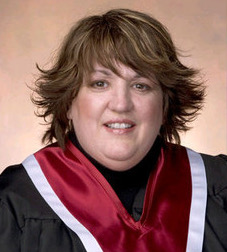 Kim McGrath Myers was a 39-year-old single mother of five living in poverty.
As a girl, she dreamed of being a social worker or a police officer. But after dropping out of high school in grade 11 when she got pregnant, she had accepted that she would never have the education to do anything but unskilled, physical jobs.
Today – thanks to her determination as well as the PEI Literacy Alliance – she fulfilled her dream and works to help women recover from addictions at Lacey House in Charlottetown.
"I always ask my clients 'who did you dream of being when you were young?' Like them, I never once said "depressed, suicidal, hopeless, or uneducated,' but that's where I ended up – and with five children who depended on me."
The first of many doors opened for her when she was encouraged by a friend to return to school for her GED. She wrote an essay to the Literacy Alliance that won her a $500 bursary that got the ball rolling.
However, she didn't want to go to her own graduation ceremony.
"I was still ashamed to acknowledge my past lack of education," McGrath Myers said. "For me, I had spent a lifetime ducking and dodging education questions and learning new skills in jobs. This would be a public 'outing' to me."
After some encouragement from her own mother, she went to the graduation ceremony where she was awarded a full scholarship to Holland College to study in the child and youth care worker program.
After graduating from Holland College in June 2007 she was employed in social services with the provincial government, working in child protection at group homes. She then worked with the Strength Program for several years.
"The journey through adult education had done so many things for me," McGrath Myers said. "It was a significant and tangible life change for me and my children. I regained my self-esteem, I fulfilled a life goal of getting my high school education. I got to choose where my dreams of a career would take me. And the financial improvement meant we could be warm and pay the bills and buy good food.
"To say going back to school changed my life is an understatement."
This Literacy Alliance annual funding is shared equally by the provincial government's departments of Education and Early Learning and Culture and Workforce and Advanced Learning. The alliance received $150,000 from each department in 2017-2018 and will get the same in 2018-2019.
Education, Early Learning and Culture Minister Jordan Brown said literacy is the foundation for all learning.
"With the support of key partners like the PEI Literacy Alliance, we have more opportunity to increase literacy and learning in our communities," he said. "For many years, the alliance has been helping our students to maintain and build on the literacy skills they are gaining in schools and early childhood centres."
Literary Alliance executive director Jinny Greaves says the need for quality, accessible, free literacy programs in Island communities is great. In fact, 46 percent of working-aged Islanders don't have the literacy skills necessary to participate fully in our digital, knowledge-based society.
"In October 2017 we were nearly forced to close our doors," Greaves said, "but with the province's generous support and two-year commitment, we are still here. Their donation covers about 75 percent of our administration costs, which is crucial for us to operate.
'We are thrilled that government understands the value of our overhead costs – this is how we support and grow our programs in an effective way and keep our skilled and knowledgeable staff."
McGrath Myers has been a guest speaker several times for the Literacy Alliance events where she has shared her story – her struggle with school and literacy and then finding success. Her emotional success story is also featured prominently on the alliance's new website.
Written by Beth Johnston