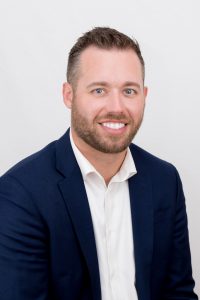 The PEI Literacy Alliance is pleased to welcome Nathan Steeves as the new Chair of the Board of Directors, replacing Jeff Murphy who completed his two year term as Chair in September and remains on the Board as Past Chair.
 "Nathan has been an excellent addition to our Board, and has the leadership skills to guide the organization and secure the funding we require to take the Literacy Alliance to the next level" said Mr. Murphy.
Nathan is currently the Commercial Banking Lead at Scotiabank in Charlottetown.  He has always placed a strong emphasis on literacy and accredits much of his success to beginning reading regularly as a child. He is bilingual, learning to write, read, and speak both English and French at a young age. Nathan has a Bachelor of Science in Biology from Mount Allison University and a Master of Business Administration from St. Mary's University.
"The Literacy Alliance is vital to our community and I'm fortunate to be involved with an organization that has such a large impact.  We look forward to renewing our funding agreement with the Province so that we can continue our work with child and adult learners across PEI" said Mr. Steeves.
Nathan formally took over the Chair role at the Literacy Alliances AGM in September and will remain for a two-year term.