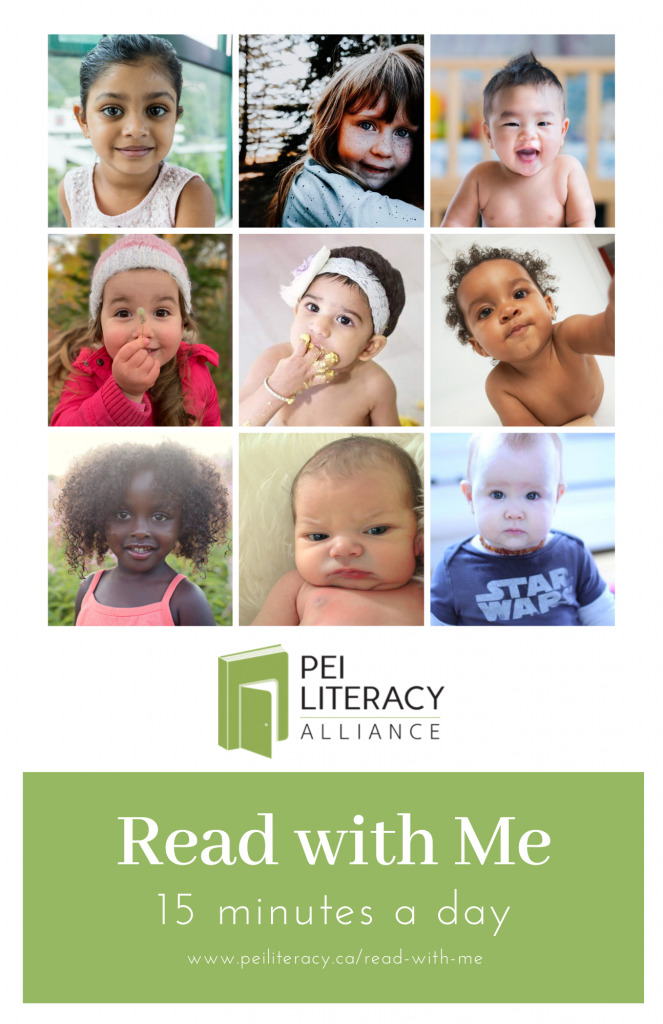 For release on January 27th, 2020, Family Literacy Day
The PEI Literacy Alliance launched a new program today called Read with Me. It is an awareness program to encourage parents and caregivers to read with their infants, toddlers, and preschoolers.
The Alliance chose today to announce this program because it is Family Literacy day – a National day to celebrate children learning from their first and most important teacher, their parent.
As the Alliance's new Chairperson, Nathan Steeves, explained, "the Board of the Alliance has identified children's literacy as a top priority for 2020. Read with Me addresses the troubling fact that 40% of Kindergarten-aged children are not fully prepared for school."
According the 2017 PEI Children's Report, 40% of children aged 5 who completed the Early Years Evaluation did not meet the development milestones in at least one of the five skill areas.
Executive Director, Jinny Greaves, further explained, "this is program will increase the knowledge of the important role parents play in preparing their children for school and learning to read and write."
"During a child's first few years their brains are like sponges. This is when they develop language skills for life. We all first learn to read through our ears – through quality interactions and being exposed to many words and contexts.  Sharing books is a great opportunity to create these interactions and exposure children need." said Greaves.
Over the next month, the Alliance will distribute Read with Me posters to all community organizations, public libraries, family resources centres and medical waiting rooms.  The poster is available in English and French.
Furthermore, during 2020, the Alliance plans to offer family literacy workshops and is currently working on a Read with Me video series that will launch in September to celebrate its 30th Anniversary.
Please contact the Alliance for more information and to order posters for your community organization. 902-368-3620 or info@peiliteracy.ca.