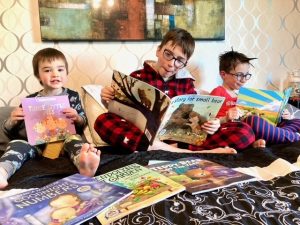 Family Literacy Day is January 27th and to celebrate, we are hosting a contest!
Post a picture of your family reading together and tag us on Facebook.
All pictures will act as entries into the draw to win one of three $100 gift cards from Bookmark. 
The winners will be announced on January 27th!
Family Literacy Day takes place every January 27 to raise awareness about the importance of reading and engaging in other literacy-related activities as a family.
Taking time every day to read or do a learning activity with children is important to a child's development and can help parents improve their skills as well.
This year's theme is Celebrate Your Heritage.
Canada is a great diverse country full of different cultures. Take time to explore and learn about your heritage. Celebrate what you've found and share your culture with others. There's no better way to learn about your family, than together as a family.
ABC Life Literacy has Family Literacy Day resources available for download on their website at: https://abclifeliteracy.ca/all-programs/family-literacy-day/