Family Literacy is critical to a child's success
in school and life.
Parents are a child's first and most important teacher.
Yet, many parents don't know how to support their babies, toddlers, and preschoolers' in language and literacy development.
As a result, 40% of Island children are not fully prepared for school by the time they enter Kindergarten.
Our goal is to inform parents and give them free resources to help them raise readers and future thinkers.  Afterall, our children today will be our leaders tomorrow.
Click on the image Resources for Families to find some great information and activities to do with your family.
Remember, play is kid's work – so make it fun!
Physical activity is also essential as it builds strong muscles which are needed for sitting and writing. So get your kids moving.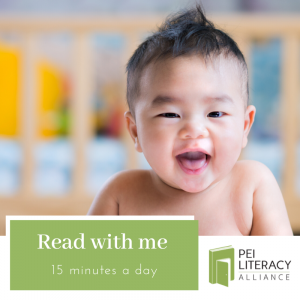 This is an awareness program to encourage parents and caregivers to read to their infants, toddlers and preschoolers everyday.
Read Press Release launching this program.
Free Read with Me posters are available for download in French and English.
"The more that you read, the more things you will know. The more you learn, the more places you'll go"
Dr. Seuss