Programs for the Workplace
Essential Skills for Atlantic Fisheries – PEI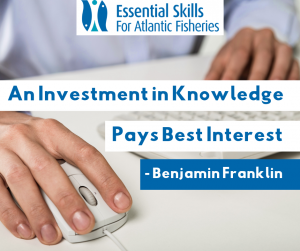 Call for Employers – February 2019
We are currently looking for up to three Island fisheries employers who are interested in taking part in our new pilot project – Essential Skills for Atlantic Fisheries. This is a training project that focuses on literacy and essential skills, employability skills and mentorship skills.  The curriculum has been designed specifically for the fisheries industry.
Find out more about this great opportunity now by contacting Lily Reaman, ESAF PEI Project Coordinator at: lily@peiliteracy.ca or apply now by clicking HERE.
The Goals of ESAF are to:
Addresses the challenges of the fisheries industry such as labour shortage, absenteeism, high turnover.
Increase workplace essential skills of those employed in and entering the fisheries industry.
Connect unemployed or underemployed people to a workplace and industry.
Create a training model that is innovative, customizable and transferable to other communities across Prince Edward Island and Canada.
Our Training Program Is Designed To:
Address the labour market and workforce challenges in the fisheries in Atlantic Canada
Help Islanders who are unemployed/underemployed find a job and succeed at that job
Benefits To Your Company:
Your managers and supervisors will gain skills to mentor staff
Your new and returning employees will gain skills to succeed at work
What We Have To Offer You:
Free training for your new and returning employees (180 hours over 6 weeks)
Free training for your supervisors and managers (30 hours)
Wages subsidies provided
Your Commitment:
Identify up to 6 managers or supervisors to take part in training
Identify up to 12 new employees to be trained and then provide a 6-to-12-week work placement for them (with our wage subsidies).
Training can take place any suitable time in 2019

Program Details:
The training curriculum for ESAF participants and mentors has been developed by the College of North Atlantic, Newfoundland.
Course facilitation for Prince Edward Island will be delivered by Workplace Learning PEI.
ESAF PEI Project Coordinator is Lily Reaman of PEI Literacy Alliance.
ESAF is funded by Canada's National Essential Skills Initiatives.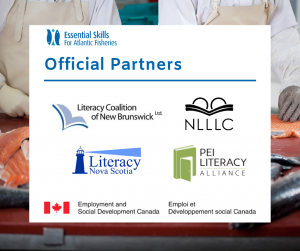 Contact:
Lily Reaman
ESAF Project Coordinator PEI
Office: 902-368-3620
Cell: 902-218-8484
Charlottetown, PEI
PEI Literacy Alliance
Website: www.peiliteracy.ca/programs-for-the-workplace/
"Books are a uniquely portable magic."
Stephen King