Join our PGI Cabinet today!
The PGI Cabinet supports literacy in PEI by planning and hosting our PGI Golf Tournament for Literacy. This is our longest running and largest fundraiser and includes a lunch banquet with speakers, awards and entertainment. Funds raised are between $30,000 and $50,000 annually. All the money stays in PEI and supports free literacy programs such as Ready Set Learn.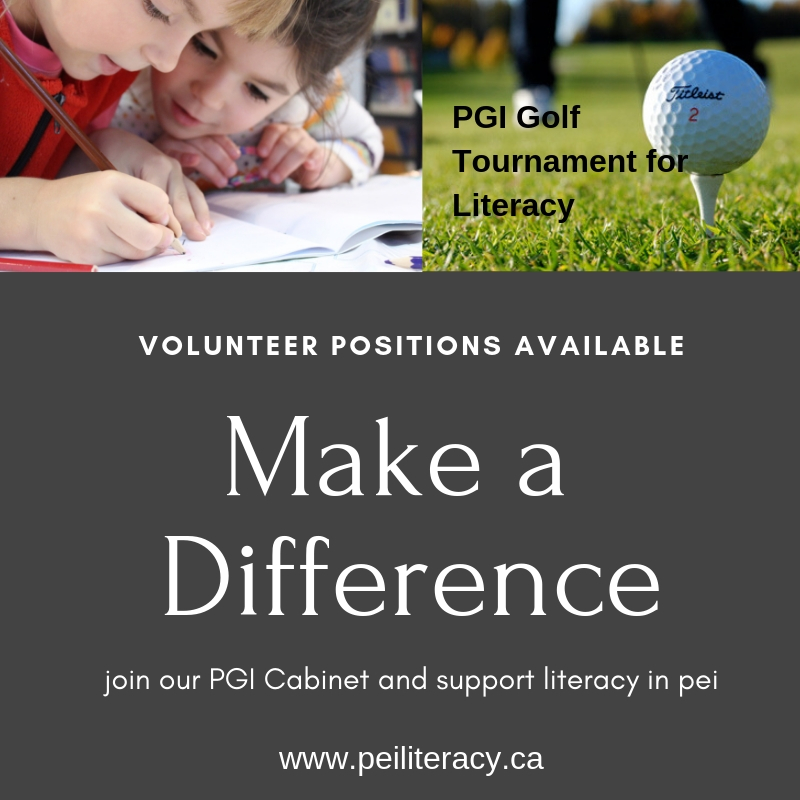 Your five-month volunteer commitment includes:
5 meetings in Charlottetown (one-hour a month starting in February)
1-3 hours/week work between meetings based on your chosen position below
On site day of event –

June 7th, 2019 at Belvedere Golf Course

from 7am to 3:30 pm
PGI Cabinet Volunteer Positions Available:
Volunteer Director – Recruit 12 volunteers, assign them volunteer jobs, and manage them during event.
Banquet and Program Director – Organize all items of the Program (MC, speakers, awards, entertainment) and plan the lunch meal and seating/stage layout.
Golf Director – Look after all course activities including gunshot start, longest drives, and scoring.
Sponsorship and Team Relationship Director – Recruit new teams and sponsors, maintain strong relationships with all team and Sponsors such as our Golf Day Sponsor and Hole-in-One Sponsor. Help with registration the morning of the event and shake hands and visit teams during their golf game to ensure they are enjoying themselves.
Silent Auction and Prize Director – Find prizes and silent auction items and manage the silent auction table and payments during the event.
Support for our PGI Cabinet
We have hosted this event for 28 years and have all the resources and experience necessary to support each of you in your chosen volunteer position.
Are you interested in joining our PGI Cabinet?
Please contact Jinny at 902-368-1810.

PGI Canada is our national partner and sponsor